This is the second post in our 2014 summer outlook series. Today we review our spring temperatures, precipitation, drought, and severe weather.
| | |
| --- | --- |
| Statewide Average Precipitation: | *13.08 inches (34th-wettest since 1895) |
| Statewide Average Temperature: | *56.77°F (30th coldest since 1895) |
* Values generated from preliminary numbers
A Relatively Cool Spring Overall
Wintry weather persisted through the early spring, resulting in the 11th coldest March since 1895. April 2014 was a little more like normal, ranking as the 51st warmest April on record. May saw even warmer conditions as the last vestiges of winter finally vanished, coming in as the 29th warmest May on record based on preliminary numbers. However, despite the increasingly warmer temperatures as the season progressed, they could not quite overcome the extreme cold observed back in March, which ultimately led to NC experiencing the 30th coldest spring on record.
Overall, percentiles of maximum temperatures show generally cooler-than-normal high temperatures across most of the Piedmont and Coastal Plain, with warmer-than-normal temperatures in Charlotte and the higher elevations of the Mountains. Asheboro, which began the spring with an early-March ice storm, had the 9th coldest spring based on maximum temperatures in that weather station's 87-year history.
Parts of the Mountains and Piedmont had some rare morning air, putting this spring among the top 10% of coldest springs on record in terms of average minimum temperatures. Long-term stations in Statesville and Laurinburg even ranked the season in the top five coldest on record. Across the state, the mean temperature percentiles for the spring varied from above normal in the Mountains to below normal across most of the Piedmont and Coastal Plain, with multiple long-term stations ranking in or just outside of the top 10 coldest springs in their historical records.
Dry in the West, Wetter in the East
Snow, sleet and ice in early March contributed to the near-normal precipitation in what was the 55th wettest March on record. The central and eastern parts of the state saw above-normal rainfall in April, making it the 17th wettest April on record.
A slow-moving cold front that came through on May 15 and 16 brought drenching rains across the state, and flooding from the Triangle to I-95. Several stations set single-day precipitation records during that event, including Reidsville (2.62″), Lumberton (3.20″), and Lake Toxaway — the wettest location in North Carolina, on average — which received 3.86″ in a single day. That being said, May's statewide average precipitation actually fell in the middle of the pack historically, finishing as the 56th driest May in the 120-year period of record.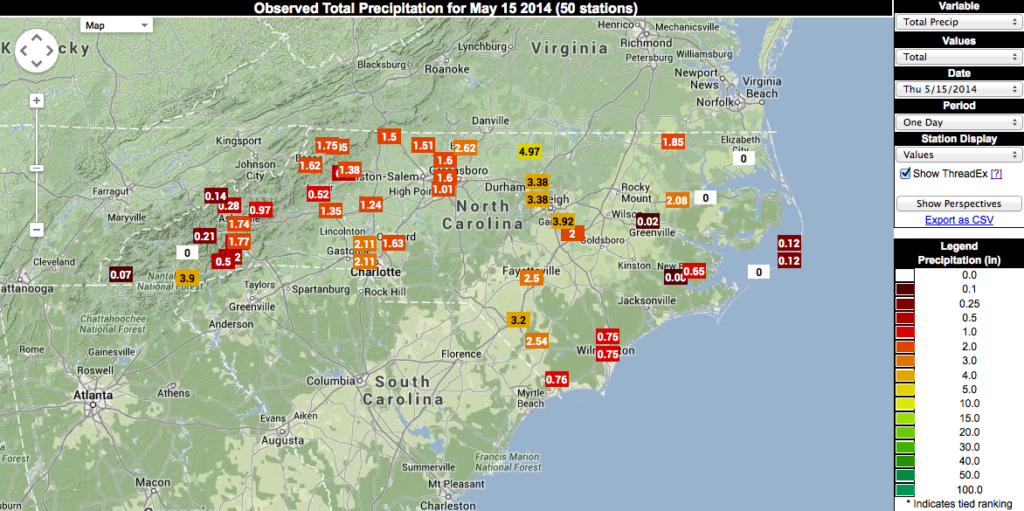 Spring precipitation percentiles show near- or below-normal in the Mountains, while Piedmont stations reported values more than 5.5″ above normal. Concord, Charlotte (CLT) and Raleigh (RDU) each had one of their top-five wettest springs in a history of 70+ years at each station. Below is a depiction of the percent of normal precipitation (based on rainfall estimates from NWS radar) from March through May. The above-normal rainfall early in the spring, combined with the large precipitation event last month, helped to rank the past season as the 34th wettest spring on record.

Drought Update
Our mild, wet spring helped keep drought conditions at bay. Intermittent dryness, designated as "Abnormally Dry," or "D0," by the US Drought Monitor, was present along the southern and western portions of the mountains, but a drought never became established.
Using data from the U.S. Drought Monitor, spring 2014 had less dryness than any of the preceding 14 springs (the period of record of the Drought Monitor). In fact, North Carolina hasn't actually seen drought since April 2013 — just over one year! Some other indicators, such as the Palmer Drought Severity Index or Standardized Precipitation Index, which was discussed in a recent blog post, also indicate normal to slightly wet moisture conditions across the state, with the lingering dryness still present along the western border.

Severe Weather
The persistent cool weather in March meant our first taste of severe weather didn't come until March 29, when a tornado touched down near Garner in Wake County. About a week later on April 7, a tornado near Pantego in Beaufort County caused two injuries. The two most significant severe weather events came during a five-day stretch in late April:
On April 25, thunderstorms brought heavy rains and hail to the Piedmont and spawned up to nine tornadoes around the Coastal Plain, including an EF-3 tornado near Chocowinity in Beaufort County.
On April 29, the same system that brought deadly tornadoes from Arkansas to Alabama moved through North Carolina. Tornadoes were confirmed near Stedman in Cumberland County, near Hobbton in Sampson County, near Cove City in Craven County, and near Conetoe in Edgecombe County.
May was relatively quiet, with only one tornado-producing event on May 15. Short-lived tornadoes were reported south of Charlotte and near Durham. This spring, the National Weather Service offices in Raleigh, Newport, and Wilmington combined to issue 112 severe thunderstorm warnings, which is slightly below the average of 127 warnings in the previous five years. Most of this year's warnings came on April 25 and 29, so other than those two events, it was a fairly quiet season for severe weather.