As part of our continuing series on drought and its hazards, today we look at the history and impacts — both good and bad — of wildfires in North Carolina. This post was written by Paul Gellerstedt, a Fire Staff Forester and Training Officer with the NC Forest Service.
When North Carolinians hear the word "wildfire," images of the American west — most likely California in the summer — probably come to mind. However, North Carolina also has its share of wildfires, and fire has long been a dominant driver of changes to our landscape.
Since the North Carolina Forest Service (NCFS) began keeping records of fire occurrence on private and state-owned lands in 1928, there has been an average of about 4,000 fires burning more than 115,000 acres annually. The peak occurred in 1955, when more than 580,000 acres burned. In the last 10 years, the Tar Heel State has averaged closer to 4,500 fires per year and around 25,000 acres burned annually. A majority of wildfires in the state are human-caused through careless burning of yard debris such as branches, sticks, and leaves, and these fires typically grow to an acre or two in size before they are suppressed.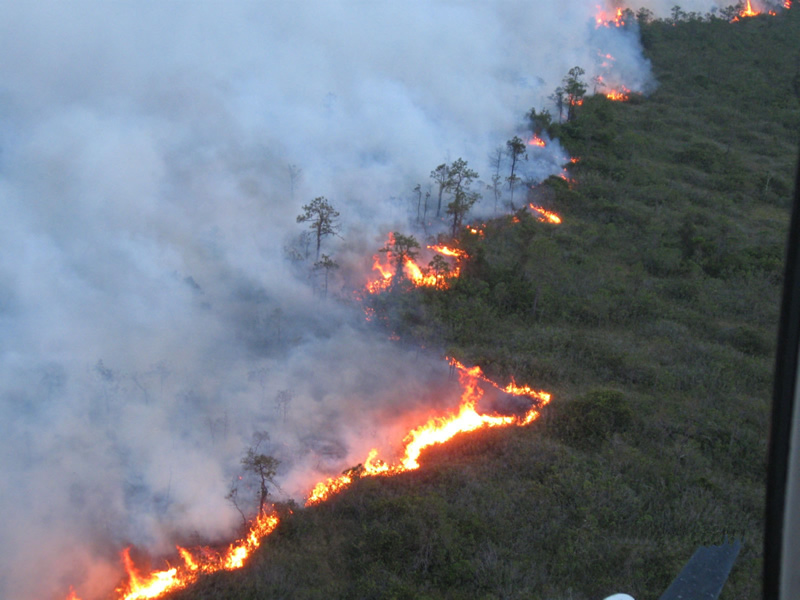 North Carolina's most severe fire season occurs from late winter through late spring (February through May). There is also a shorter fire season that occurs in the fall after leaves have dropped. Spring fire season severity is driven by several factors. The driest and windiest days in North Carolina typically occur in the spring. Frequent cold fronts pass through the state, often without rain, leaving dry, blustery days in their wake. Relative humidity can bottom out in the teens and single digits during spring. When combined with wind, these conditions can lead to rapidly spreading wildfires.
In drought years, which are often associated with La Niña conditions, we typically have greater fire frequency and more extreme and difficult-to-control fires. For example, in 2008 and 2011, there were several large fires (Pains Bay Fire, Evans Road Fire, Juniper Road Fire) in the Coastal Plain that took weeks to months to suppress, collectively burned more than 125,000 acres, and cost tens of millions of dollars to battle.
While fire can be a destructive force to life and property, it is also a critical component of most of our natural systems. The majority of North Carolina's ecosystems, and the plants and animals within them, are adapted to fire or are dependent upon fire. Natural, pre-settlement fire frequency may have been as often as every year in parts of our state.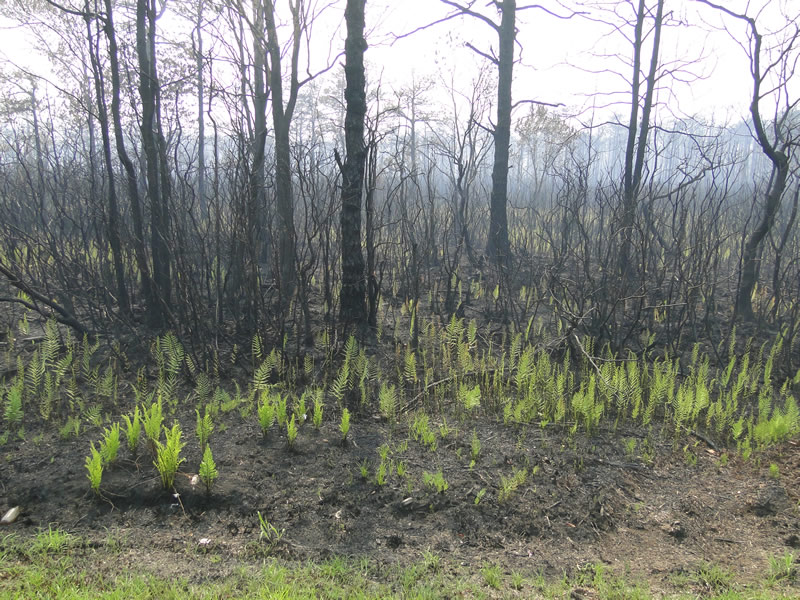 As North Carolina now has a large population with extensive infrastructure, wildfires cannot be allowed to grow naturally and as a result the frequency of fire in most areas has been greatly lengthened. While suppression is necessary, it has led to the exclusion of fire from much of the land and has therefore changed our natural systems.
Because of the exclusion of fire from many areas, there have been efforts to replace natural wildfires with prescribed fires over the last several decades. Prescribed burns are conducted under conditions that are beneficial to the ecosystem and reduce dangerous fuel loads. Well-timed and frequent prescribed burns are one of the most effective tools that land managers in North Carolina have to reduce the threat of catastrophic wildfires in the future.
North Carolina's ecosystems are interdependent on fire; it can be used to enhance and maintain their viability or to ultimately destroy them. The future of our ecosystems depends on our ability to use fire smartly, to burn only on days where it's appropriate to do so, and to combat wildfires safely and aggressively. Please remember to be smart, and prepare before you strike a match.
For more information on wildfire and prescribed burning in NC, visit www.ncforestservice.gov.