Last week, we looked ahead to the upcoming winter. Today, we want to look back and share a few stories of memorable winter storms as told by blog readers and writers alike. We hope you'll enjoy reminiscing about some of these events along with us!
From blog reader David DuMond:
One of the most remarkable Christmas storms I have experienced in North Carolina was the slightly before Christmas storm of 1989 in the Wilmington area. Again a winter low tracked off the coast and deposited as much as 22 inches of snow in the Hampstead area. Inland, I think there was but a trace. The snow literally shut Wilmington down. South of town there was about 14 inches along the Masonboro Sound. I recall taking my daughter to Hampstead for work and putting my arm out of the window of a 1976 International Scout and touching the top of the snow along US 17 after deep ruts were tracked.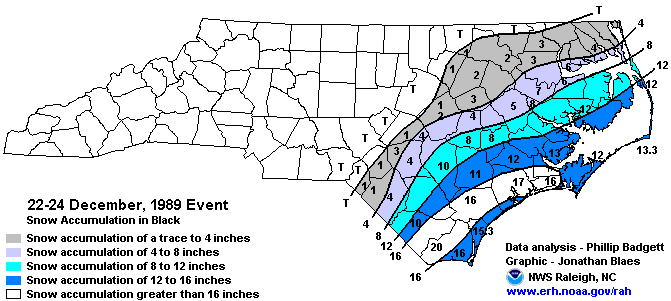 From SCO graduate research assistant Corey Davis:
As a lifelong North Carolina resident, it's probably no surprise that an ice storm ranks among my most memorable winter events. During the December 1998 storm, our house in the Triad lost power on Christmas Eve, leaving us scrambling to make plans for that night. As fate would have it, the power came back on around 5 pm, so we could still have our family over, eat dinner, and open presents.
Soon after our relatives left, we lost power once again, leaving us in a cold, dark house for the night. Of course, none of us slept: What kid can sleep easily the night before Christmas anyway, let alone inside a cold house with nearby tree branches snapping under the weight of the ice? Finally around 3 am, the power company arrived and fixed the damaged power line so we could enjoy a comfortable — albeit brief — few hours of sleep before we woke up on an icy Christmas morning.
From SCO undergraduate research assistant Andrew Martin:
It was January 2002 and I was working at a call center at the time. The snow started that afternoon and the company offered to set some of us up in a hotel so we could be there to cover the morning shift. I volunteered to stay overnight, but needed to return home to let the dog out. By the end of the event, at least 6 inches of snow was on the ground. This was the first time my lab, Dave, had seen snow. He had a hard time figuring out why the snowballs disintegrated after he caught them. He would dig his nose in the snow, look from side to side, but the ball was gone!
From NC DAQ meteorologist, SCO alumnus, and blog contributor Bradley McLamb:
The day-after-Christmas winter storm holds a special place in my heart. However, this isn't the storm most folks are probably thinking of (as in the 2010 storm). No, this is the winter storm that only affected regions near the I-95 corridor, including my hometown of Benson, NC, on December 26, 2004.
There were two things about this storm that were quite unique. First, after being advertised as a possibility about 5 days in advance, it was totally written off by almost every forecaster in the days leading up to it, only to come back as a miracle storm that produced snow and wintry weather unusually far south (and during Christmas!) from Texas to North Carolina. The other thing that was so intriguing about this storm was the incredibly tight gradient of snow vs. nothing to the west or rain to the east.
I wrote a technical research paper on this storm during my undergraduate studies at NC State that attempts to explain some of the unique characteristics of this event. The day-after-Christmas 2004 winter storm will always hold a special place in my heart because it was the little storm that could, and it is also the reason I'm a meteorologist today.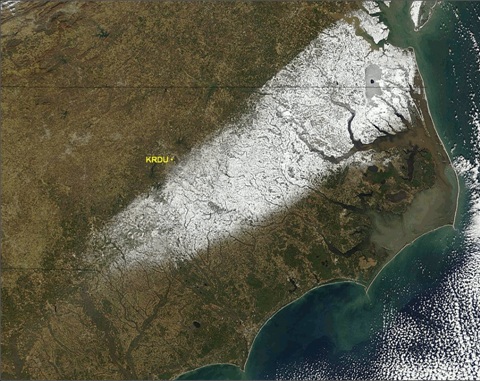 On behalf of all of us at the State Climate Office, thanks for reading our blog this year and we wish you a very happy and safe holiday season!