Severe weather in North Carolina can be extremely hazardous to those in the path of a storm; however, weather safety precautions can reduce injuries and deaths. During the spring and summer months, there are several severe weather hazards, mainly resulting from thunderstorms and tropical systems, that impact North Carolina such as heavy rain, strong winds, and hail.
Flash Flooding
North Carolina has experienced higher than normal rainfall this spring and summer, mainly from thunderstorms, causing flooding in many areas of the state. On May 5th, parts of Asheville received up to 4 inches of rain that caused downed power lines and trees, preventing people from traveling. To put that in perspective, Asheville Airport averages about 4 inches of precipitation for the whole month of May! Additionally, on June 30th, 4.66 inches of rain fell in Chapel Hill, which exceeds the average precipitation during the entire month of June.
Flash flooding is extremely dangerous, especially to those driving. Only 6 inches of water can cause you to lose control of your car!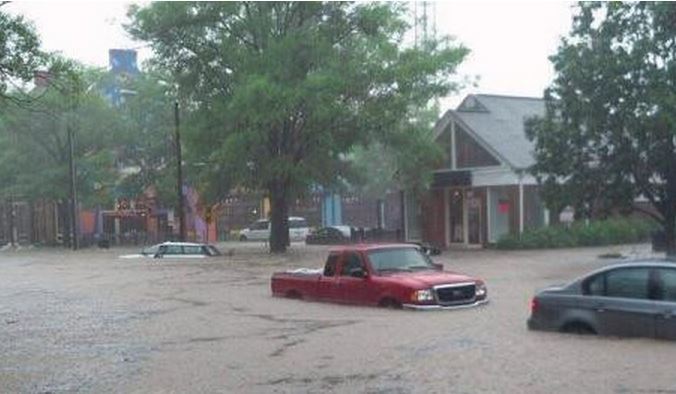 High Wind
This map from the Storm Prediction Center shows the summary of severe weather across North Carolina in 2013, including reports of high winds and hail, which are most common during summer and can cause significant harm to both people and property.
A total of 484 high wind reports (greater than or equal to 50 knots or 57.5 mph) have occurred during 2013 in North Carolina. June has the largest number of high wind reports so far this year (231). In comparison, on average, July has more high wind reports than any other month (~40 reports).
North Carolina will more than likely see additional high wind events before the year is up, so here are a few safety reminders. When driving during a high wind event, keep both hands on the wheel to maintain control of the vehicle and watch out for flying debris (e.g., branches and roof shingles). If needed, pull over to the side of the road with your hazard lights on and wait out the storm.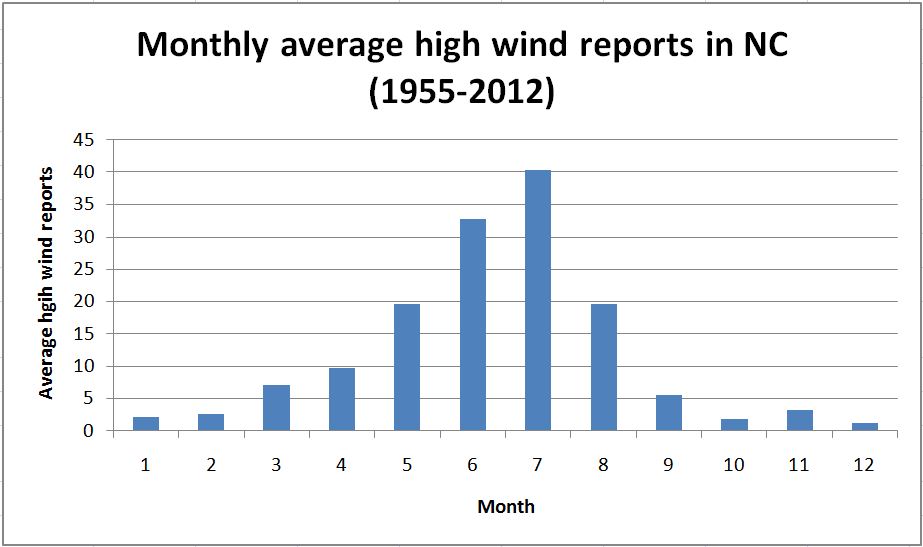 Hail
Hail from thunderstorms can be very destructive to homes, vehicles, and crops. In fact, according to NOAA, hail causes an average of $1 billion in damage annually in the United States. So far this year, 76 reports of hail have occurred in North Carolina according to the SPC storm reports. The month with the largest number of hail reports this year was May, with 29 reports. On average, May has the largest number of hail reports (~42 reports).
Hailstones can vary in size from a marble to a softball. The US record for largest hailstone is 8 inches in diameter, which occurred in Vivian, South Dakota on July 23, 2010! While no official state record exists, hailstones in excess of 4 inches have been reported in NC. The potential for severe thunderstorms to occur this summer still exists, so if you're in a vehicle during a storm, remember to seek a sturdy shelter, as hail can break the windows of a car and shatter glass on its passengers.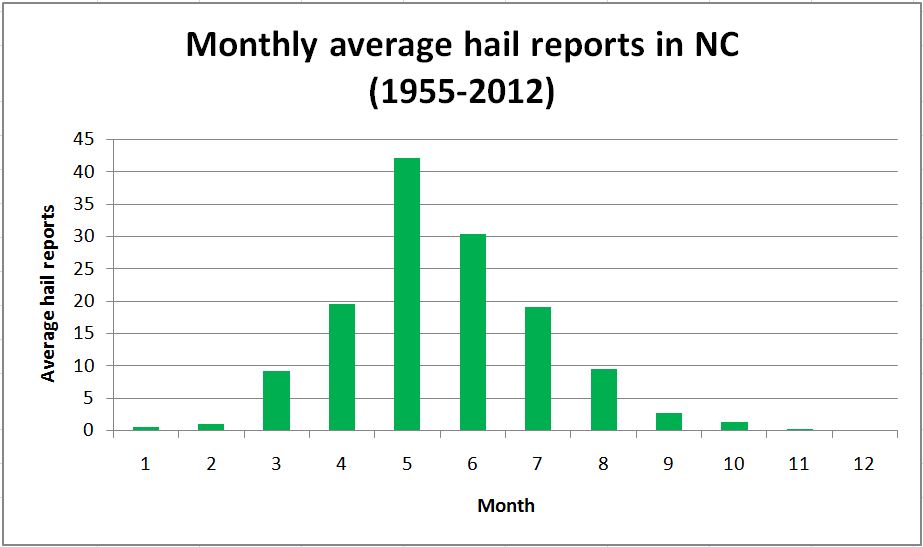 Tropical Systems
Other severe weather phenomena that influence North Carolina are tropical systems. Some hazards from tropical systems, including flooding and high winds, are similar to that of thunderstorms, so the same precautions should be taken to avoid injury.
While we have not seen many storms during the 2013 hurricane season, keep in mind that we have not hit the climatological peak of the season in North Carolina, which is mid-September.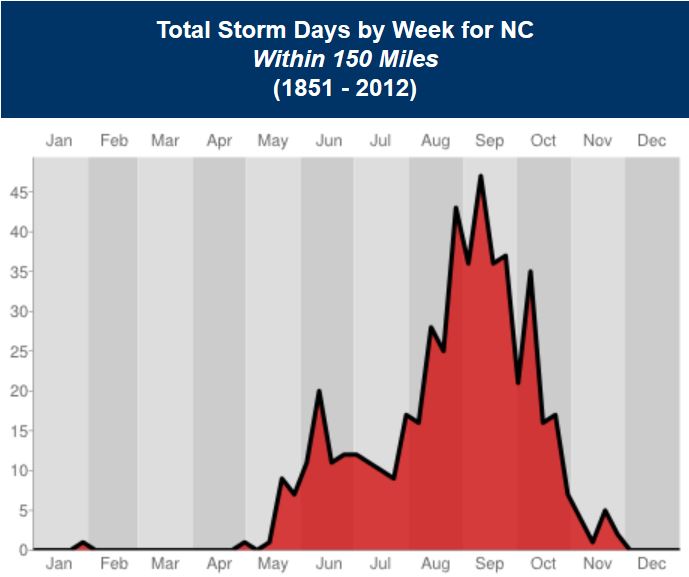 Overall, severe weather hazards from thunderstorms and tropical systems can be very dangerous, but knowing more about the climatology of these phenomena and reminding yourself of some key weather safety tips will hopefully keep you better prepared.