As anyone who spent time outdoors over the past few months can attest, the idyllic spring of 2013 is one for the memory banks, and it turns out that it's also one for the record books. The preliminary rankings show this spring was the 7th coldest and 50th driest on record for North Carolina. That includes a March that was actually colder than January for many locations across the state.
By the Numbers
This year's March-April-May period bucked the recent trend of warm springs. The previous three springs all ranked among the top 20 warmest on record, including the spring of 2012 that was the warmest on record for North Carolina and much of the country. As the table below shows, most locations were 6 to 8 degrees cooler this spring compared to the spring of 2012.
Location
Spring 2012
Avg. Temp.
Spring 2013
Avg. Temp.
Difference
Asheville
60.7°F
53.0°F
-7.7°F
Cape Hatteras
65.3°F
59.0°F
-6.3°F
Charlotte
64.7°F
57.7°F
-7.0°F
Fayetteville
64.5°F
58.4°F
-6.1°F
Greensboro
63.1°F
56.2°F
-6.9°F
Greenville
64.6°F
58.8°F
-5.8°F
Raleigh
64.1°F
57.2°F
-6.9°F
Wilmington
66.3°F
60.1°F
-6.2°F
This spring wasn't just seasonable. At some points, it was downright wintry! In early April, a storm brought snow and ice to the mountains and sleet as far east as Clayton. And in May, we saw a few daily low temperature records broken, including a chilly 39° morning in Raleigh last month.
Another rarity this spring was the lack of 90°+ days. On average, Raleigh's first 90° day is May 11th, but this year, the capital city didn't reach that milestone until June 12th. It's not a record-breaker — that mark belongs to 1983, when the first 90°+ day wasn't until June 27th — but it's certainly a big difference from the past few years.
Climate Pattern Update
What's behind our cooler springtime conditions? In early March, the Arctic Oscillation (AO) plummeted to extreme negative values, and as a whole the month of March 2013 recorded the most negative AO value since December 2009, and the 5th-most negative AO value observed in any month since 1950!
The figure to the right of spring 2013 geopotential height anomalies reveals a strong signal of high-latitude blocking — which often leads to persistent weather patterns — over North America for the entire season. This strong blocking pattern prevented the polar jet stream from strengthening and sweeping out all of the cold air bottled up in Canada from the winter. An active Pacific jet stream resulted in numerous strong upper-level storm systems driving strong cold fronts through the Tar Heel State, delivering the modified Canadian air to our region.
Additionally, as we noted in our winter recap, the neutral ENSO phase and variable NAO and PNA conditions — which continued during the spring — prevented any persistent, large-scale features from developing, such as the ridging jet stream that's been a mainstay during the past few sizzling springs and summers.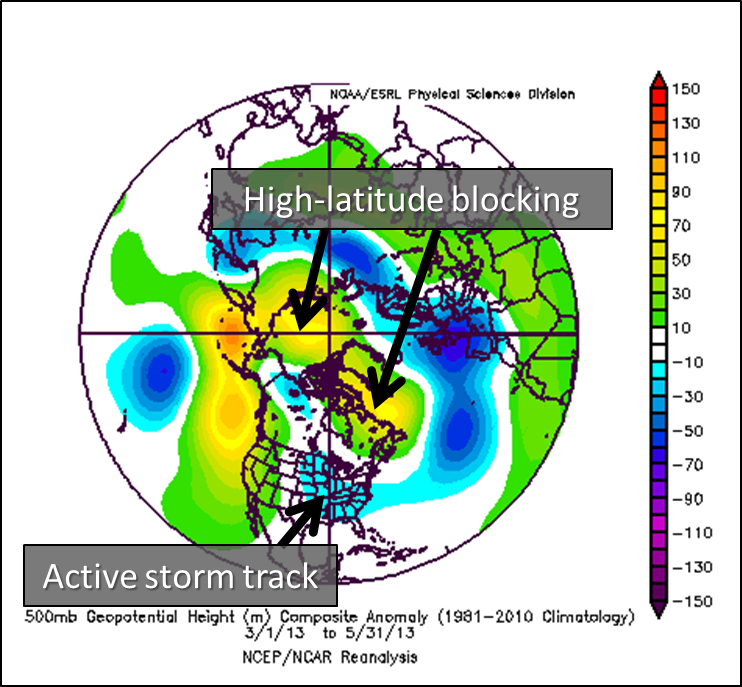 Summer Outlook
So what does summer hold for us? As is normally the case, there is very little predictability for our summer conditions. Research at our office shows that the correlation between springtime and summertime temperatures is an extremely weak -0.002, so our seasonable spring won't necessarily translate into an equally cool summer.
We can continue to say that ENSO conditions will likely remain neutral to slightly cooler-than-normal. Last month, we noted that El Niño conditions often emerge during the spring thanks to the interplay between two Pacific monsoon patterns. However, this year we have not yet seen a sustained warm pool form in the western equatorial Pacific, which makes the return of an El Niño pattern within the next few months even more unlikely.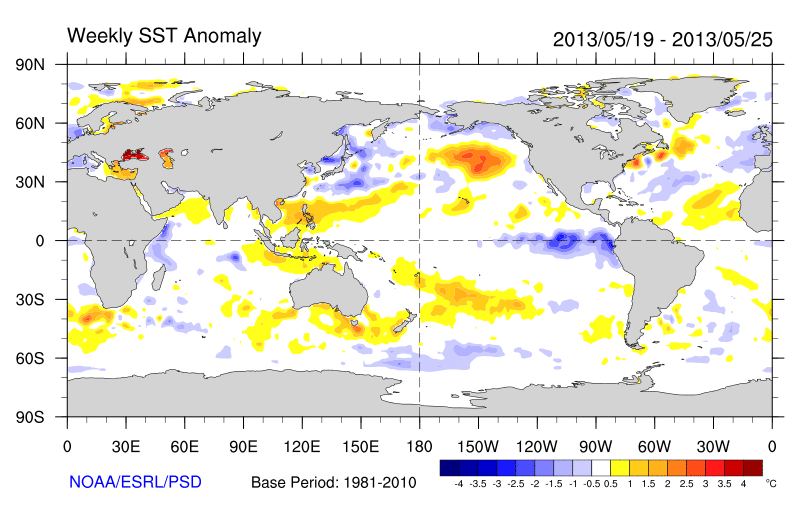 While sea surface temperatures in the Pacific remain on the cool side, another year of warmer-than-normal conditions in the Atlantic suggest an active hurricane season. Researchers from NC State, Colorado State and NOAA agree that we should see at least 13 named storms and 7 hurricanes, including 3 to 6 major hurricanes, all of which are an increase over the long-term averages.
As any storms form and our summer weather conditions evolve, stay tuned to the Climate Blog and our Twitter account (@NCSCO) for updates.