The statewide statistics below highlight a somewhat "normal" February in terms of precipitation. The majority of the state received anywhere from 2 to 5 inches of rainfall, with a few coastal areas receiving over 6 inches. While these rainfall totals equate to above-normal (or just below-normal) conditions for the northern Piedmont and most of the Coastal Plain, some portions of the southern Piedmont and the far western part of the state saw much smaller amounts ranging from 25-75% of normal.
Statewide Average Precipitation: 4.03 inches (50th wettest since 1895)
Statewide Average Temperature: 41.3°F (52nd coldest since 1895)


While the statewide temperature in February seemed fairly normal, the average mean temperatures observed at a few stations — namely Mount Mitchell, Boone and Murfreesboro — ranked in the top 10 in terms of the coldest February on record for each individual station. Maximum and minimum temperatures yielded roughly the same results (not pictured), with the average maximum temperatures for the month ranking 5th coldest at Mount Mitchell.
Station precipitation rankings showed a few extremes in the mountains and along the coast, with February in Hot Springs ranking the 4th driest in the station's period of record. Conversely, 6 stations in the Coastal Plain ranked in the top 10 in terms of the wettest February, with Cape Hatteras observing the 3rd wettest February in the station's history.
February was marked with multiple snow and ice events, with a few reports of storm damage due to downed trees as a result of high winds and a single tornado reported on February 26 in Johnston County.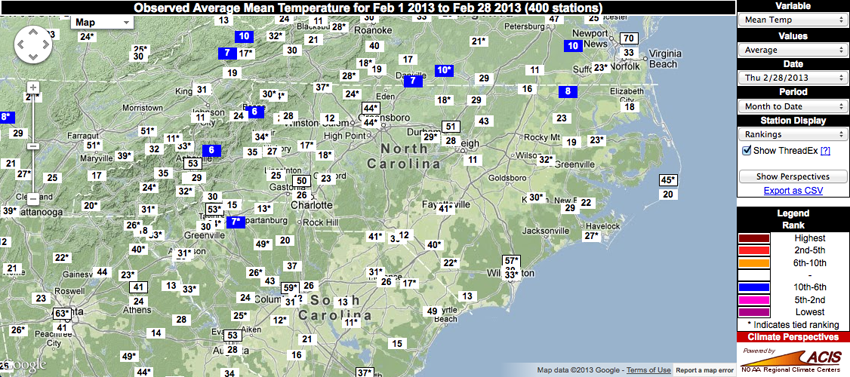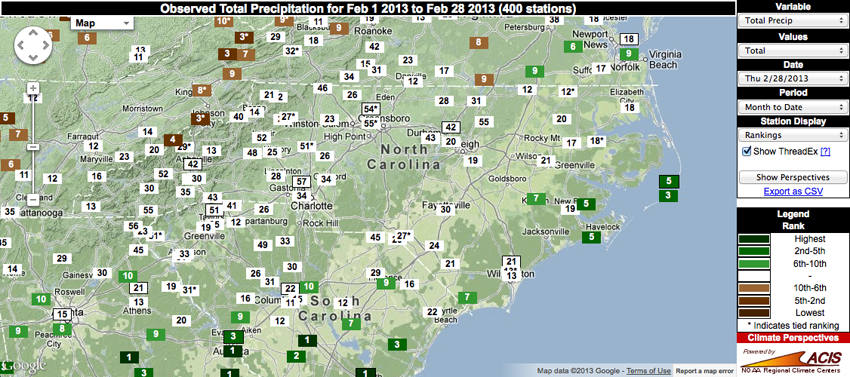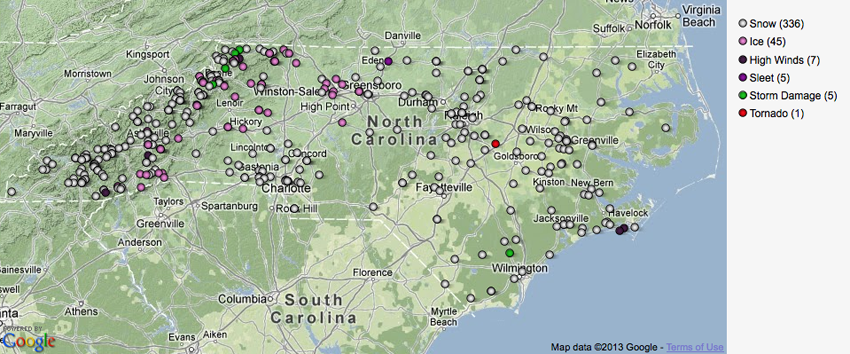 While the total amount of precipitation in February was not substantial enough overall to eliminate the drought in the southern Piedmont, growers in other parts of the state have seen delays in the ability to apply nitrogen and herbicides due to the frequent precipitation events occurring throughout the month. Drought impacts have been slowly improving across the state over the past few months, with continued improvements expected in the upcoming spring season according to the U.S. Seasonal Drought Outlook.