For a few hours every week since October, the State Climate Office has welcomed two additional researchers: Miles Hunt and Maggie Loughlin, both eighth-grade students at Centennial Campus Magnet Middle School, who participated in the annual internship program now in its ninth year.
Continuing in the tradition of past interns, Miles and Maggie each conducted a research project based on a topic of interest. With a little help from the SCO's graduate students, they retrieved relevant weather and climate data, analyzed it, and presented their findings to the rest of the SCO staff.
Miles's project, titled "Wind Powering North Carolina", investigated the best place to build a wind farm in the state. After looking at wind data from our recently improved Wind Rose Tool and the CRONOS Database, he was able to narrow his search to two locations: Hickory and Cape Hatteras. After analyzing information about severe and winter weather from the SPC Storm Reports Map and the Winter Storm Database, in addition to valuable wind farm information and site criteria from the US Department of Energy, Miles was able to determine that a location just to the north of Cape Hatteras would be most suitable for a wind farm.
Inspired by the snow that Hurricane Sandy brought to the mountains, Maggie studied the impacts of late-season tropical storms on North Carolina in her project called "Hurricanes After Hurricane Season". Using the Hurricane Database, she found 19 storms since 1950 that affected North Carolina in October, November and December, all past the peak of hurricane season. This impressive list includes Hurricane Hazel, the only category-4 storm to make landfall in North Carolina. Maggie also used the CRONOS Map, SPC Storm Reports Map, and the Local Storm Reports Database to determine the impacts of these storms, ranging from the wintry weather brought by Sandy to widespread severe weather during storms like Hurricane Josephine in 1996.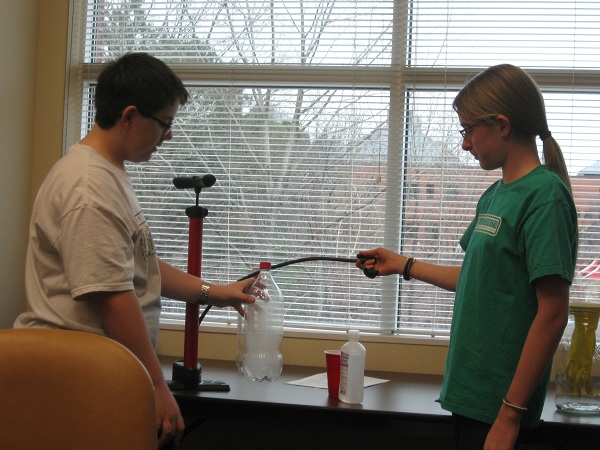 This year, the students also participated in weekly lab activities that covered basic weather concepts such as cloud formation, meteorology job skills like contouring maps of temperature and pressure to find fronts, as well as instrumentation and data quality control. They put their skills to the test by squaring off in a game of Climate Jeopardy! — won by Maggie — before Christmas break, and by demonstrating a "cloud in a bottle" experiment for the SCO staff during their final day at the office.
With this year's internship now wrapped up, we wish Miles and Maggie good luck in their future academic endeavors and we eagerly anticipate the start of next year's internship!