The statewide statistics below highlight the relative wetness and warmth in January 2013. But those statewide numbers represent an average of extremes. Let's start with rainfall: dry in the east, but record breaking wetness in the west.
Statewide Average Precipitation: 5.47 inches (17th wettest since 1895)
Statewide Average Temperature: 43.90°F (24th warmest since 1895)


Extreme precipitation fell over the mountains of NC in January, while central and eastern parts of the state were much drier. Areal average precipitation for the 2 mountain climate divisions in January was 10.59 inches, ranking January 2013 as the wettest on record for that region.
The wettest January (statewide average) was in 1998 with a statewide average of 7.9 inches. (Jan 1998 was also the 2nd wettest for the mountains, after 2013). The driest January on record was in 1907 with 0.71 inches.
With heavy rain in January came many reports of flooding in the valleys of western NC. January also brought reports of wind damage across the state, and our first taste of frozen precipitation with snow, sleet, and freezing rain reports from most every region.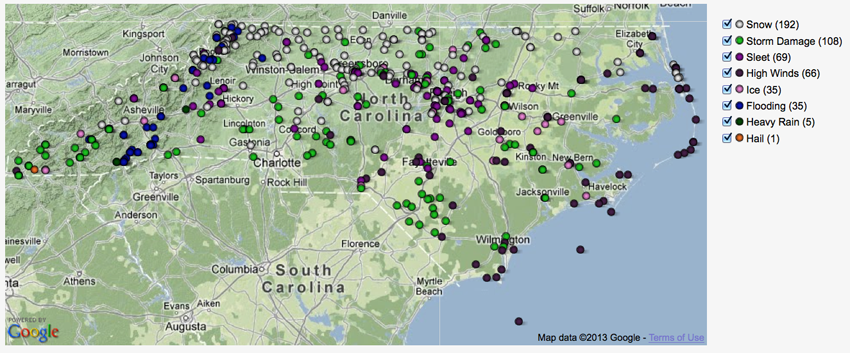 Temperatures in January were generally more moderate. No substantial monthly average maximum temperature records were set, but several locations in western NC reported minimum temperature averages that ranked in the top 10 warmest. This continues the recent trend of more normal daytime high temperatures, but warmer overnight temperatures. The warmest January on record was in 1950 when statewide average temperatures were 52.01°F. The coldest was in 1977 with statewide average temperature of 28.55°F.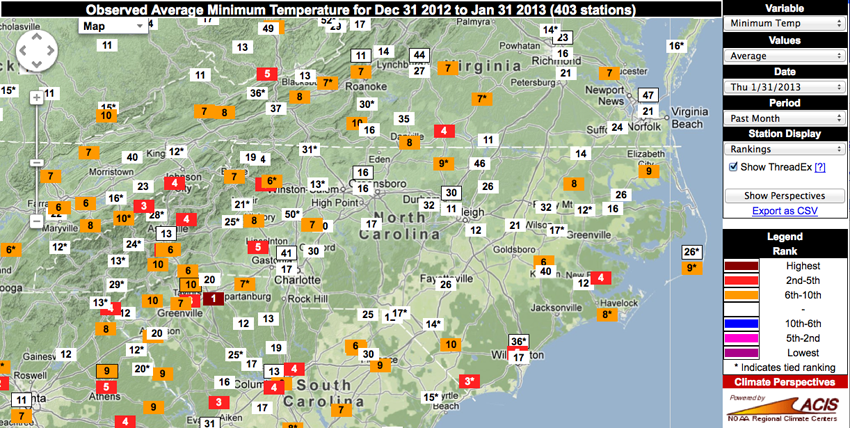 Drought Update
Heavy precipitation in western NC has eliminated all drought impacts, but drier conditions in eastern NC have expanded the area of focus. While drought impacts were limited to streamflow and groundwater levels, eastern NC was abnormally dry in January.