After much of North Carolina saw wintry weather in recent weeks, many folks must be wondering whether there is more snow and ice to come or if warmer weather is on the way. Weather folklore enthusiasts may get their answer on Saturday from the lowly groundhog.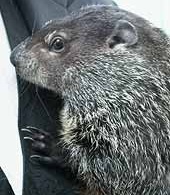 Here in North Carolina, our resident rodent is Sir Walter Wally. He will make his annual weather prediction at noon on Saturday at the Museum of Natural Sciences in downtown Raleigh. You can find more information about their free-to-the-public Groundhog Day activities on their website.
You can view all of Sir Walter Wally's past predictions, as well as the actual temperature data from the following weeks, on our Groundhog Day page. Last year Wally saw his shadow, predicting six more weeks of winter. Take a look at our page to see how his prediction fared.
What will Wally predict this year? We will keep you posted about his prediction here on the Climate Blog and on our Twitter feed, @NCSCO.