We exited a warm winter and got a head-start on spring with above-normal temperatures in March. Dry weather returned to North Carolina last month, but the year-to-date remains wet, as well as warm.
A Warm Start to Spring
The past month was a warm one in North Carolina, as the National Centers for Environmental Information (NCEI) reports a statewide average temperature of 56.1°F, ranking as our 5th-warmest March dating back to 1895.
Several sites hit 90 degrees during the final weekend of the month, and it was one of the earliest occurrences of such warmth in those areas. In New Bern, the 91°F reading on March 28 was the third-earliest that site has hit 90 or higher since 1949. Hamlet hit 90°F on that same Saturday — the earliest 90-degree day there also based on records since 1949.
Our average afternoon highs were generally 3 to 5 degrees above normal, but even warmer overnight lows were the main drivers behind our high-ranked temperatures. Based on the average minimum temperatures, it was tied for the warmest March in the past 128 years at Hatteras, and the warmest dating back more than 50 years in Bayboro, Celo, North Wilkesboro, and Danbury.
While much of the state can typically expect a chance of below-freezing temperatures throughout the month of March, those cold nights were limited last month, even in western North Carolina.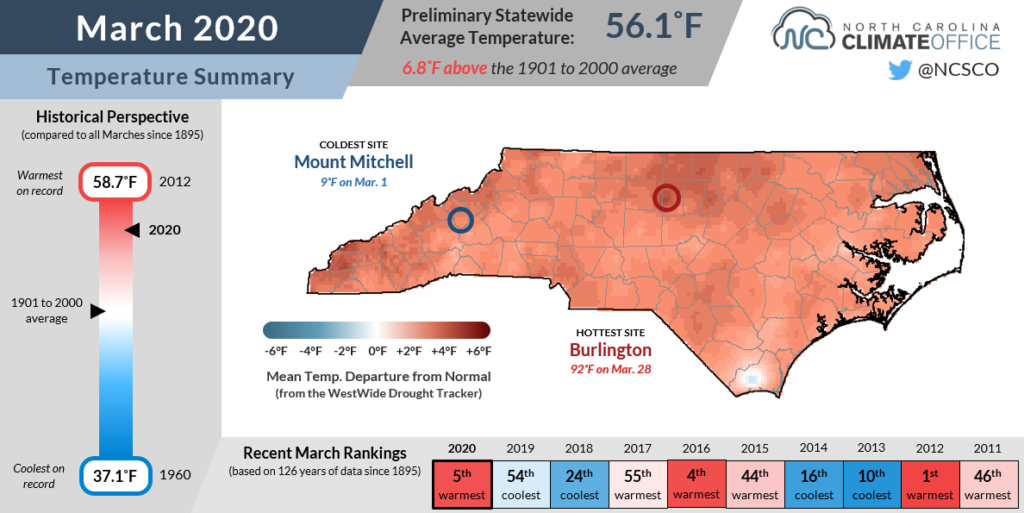 Asheville had only four nights with temperatures at or below freezing — the fourth-fewest there dating back to the early 20th century. On Mount Mitchell, where the average low temperature is below freezing through mid-April, there were only 10 days last month with temperatures that cool.
If we don't get another cold morning this spring — and that risk is still present, especially at higher elevations, for much of April — this year would have one of the earliest last freezes on record.
Across the Piedmont, most sites last fell below freezing on March 8. That would be the second-earliest last freeze in Greensboro, after only the March 7 freeze in 2010 as the earliest at that site.
In Raleigh, the March 8 last freeze would be the fifth-earliest since 1887, and the earliest since 1942. And Fayetteville, where temperatures last dropped below freezing on March 2, stands to have its fourth-earliest last freeze on record.
A Walk on the Dry Side
Our warm, sunny March days meant limited precipitation and an overall dry month, ending a streak of five consecutive wetter-than-normal months dating back to last October. According to NCEI, last month's statewide average precipitation of 3.23 inches ranked as our 34th-driest March out of the past 126 years.
While North Carolina's geographically most extreme locales received the most precipitation — including on the Outer Banks, where Ocracoke was 1.6 inches above normal, and the far western slopes, where Oconaluftee was 2.9 inches above normal — it was drier everywhere in between.
Most sites in the Piedmont and Foothills were 1 to 2 inches below their normal March precipitation, which is about an inch per week, or a little more than 4 inches per month.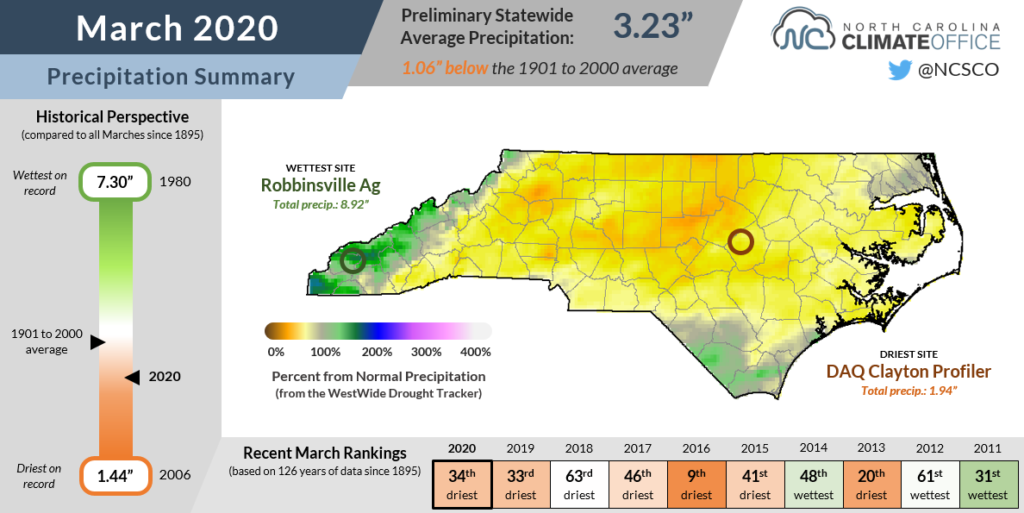 The 2.13 inches in Raleigh was 2 inches below normal for the 17th-driest March on record there, while Hickory's 2.47 inches ranked as the 10th-driest since 1949 at that location.
A dry March isn't too uncommon, especially in the past few years: six of the past seven Marches in North Carolina have had below-normal precipitation. And for anyone worried about slipping into a dry pattern, it's not out of the question, but recent trends favor April showers. Six of the past seven Aprils have been wetter than normal!
We can never rule out snow in March since potent coast lows occasionally combine with cooler air to our north to produce wintry weather in parts of the state — most recently in 2018.
But last month, the overall warm weather was not conducive for much snow, even at altitude. Mount Mitchell recorded just 5.1 inches of snow last month, well below its normal March total of 17.3 inches.
Catching Up on 2020
We're more than a quarter of the way through the 2020 calendar, so after the first three months of the year, where do we stand compared to normal and compared to recent years?
In terms of temperatures, it has been undeniably warm so far, including the final two months of our 5th-warmest winter on record. Statistics from NCEI show that this January through March is tied for our warmest start to a year since 1895. The average temperature of 49.7°F, or 5.9°F above the 1901-2000 average, is on equal pace with the first three months of 1990.
That also puts us 3.5°F ahead of 2019, which edged out 1990 to become North Carolina's warmest year on record. March was one of the few cooler-than-normal months last year before warm weather ruled most of the spring, summer, and fall.
It has also been a fairly wet start to the year, March notwithstanding. From January through March, we've had a statewide average precipitation of 14.67 inches, which ranks as our 20th-wettest year to this point, or 2.65 inches above the 1901-2000 average.
Last year was right on that long-term average after the first three months, while 2018 — which was our state's wettest year thanks to a wet summer and fall including Hurricane Florence and Tropical Storm Michael — was actually about an inch below normal after January, February, and March.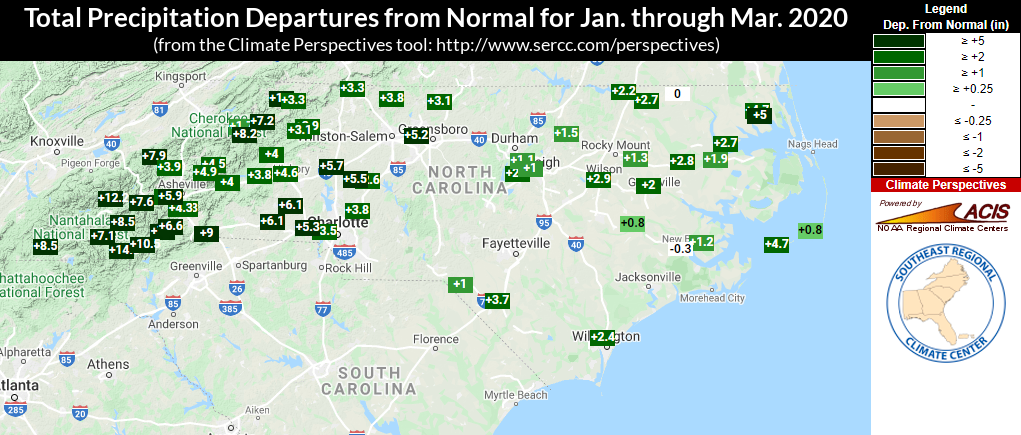 Our three-month precipitation departures from normal (above) show wet conditions across the state, including surpluses of five inches or more in the northeastern Coastal Plain at Elizabeth City (+5.0 inches) and in the western Piedmont at sites such as Statesville (+5.7 inches) and Shelby (+6.1 inches).
Most Mountain sites are also on the wet side so far in 2020, with Highlands a full 14.3 inches above normal for the calendar year. Its three-month precipitation total of 35.92 inches ranks as the fourth-wettest year-to-date on record there behind 1998, 1990, and 1903.
Despite our dry March, the US Drought Monitor map for North Carolina remains blank as we head into April. That's largely thanks to our wet weather throughout the winter that kept streams, groundwater, and soil moisture levels sufficiently high.
Combined with our mild March, conditions have been ideal in many areas for farmers to begin field preparation and planting. In fact, a few dry weeks could prove beneficial down the road, as it can help crops establish deeper root systems if near-surface soils aren't quite as moisture-rich. Strawberries grown over the winter are now being harvested, and the yields are high — and arriving early due to the warmer weather.
It may be laughable to suggest that 2020 has been uneventful so far, but at least in North Carolina's weather, that's mostly true. Our winter included just one significant statewide snow event on February 20-21, and while February also included a handful of tornadoes, March had none and an overall lack of severe weather across the state.