This post is part of our year-long series about North Carolina's weather extremes.
May is generally associated with warming temperatures, springtime thunderstorms, and rain showers to feed emerging plants. But several times in recent history, including a record-setting event in early May of 1963, the onset of spring has been interrupted by a wintertime relic when a costly freeze occurred across the state.
Spring Freeze Climatology
The last spring freeze in North Carolina generally occurs between late March along the coast and late April in the mountains, as shown in the map on the right.
The typical range around those average dates is about two weeks in either direction. For most sites, the standard deviation is about 14 days, which means the last freeze occurs within a four-week period surrounding the average date about 68% of the time. That means Charlotte, with an average last freeze date of April 1, usually has its last freeze between March 18 and April 15.
But about one-third of all years fall outside this approximately month-long range. And when a warm few weeks precedes a late-spring freeze, whether or not it falls outside the typical range, the results can be costly for growers and gardeners across the state.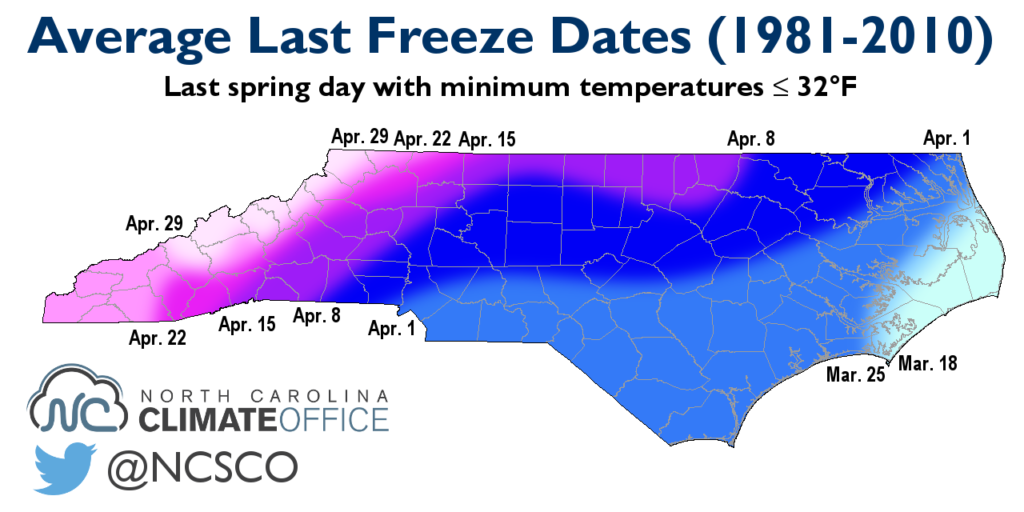 May 1963 Freeze
The winter of 1962-63 was a chilly one, ranking as the ninth coldest on record. But after a final round of snow and cold temperatures in late February, the weather began to warm up. Temperatures climbed into the 80s by late March, and ample precipitation in March gave ideal conditions to begin planting.
On April 16, low temperatures hit the freezing mark across the state, giving what appeared to be the final spring freeze. Over the next two weeks, temperatures warmed up again, and highs even hit 90°F on April 23. By all appearances, winter was finished and spring was in place.
However, in late April, a high pressure system with Arctic origins began to move south out of central Canada. A leading cold front cooled highs into the 50s across North Carolina on May 1. As the high settled in to our west, skies cleared and the clockwise circulation around the high set up light northwesterly winds. Both are ideal conditions for cool mornings, and that's exactly what we had on May 2, 1963.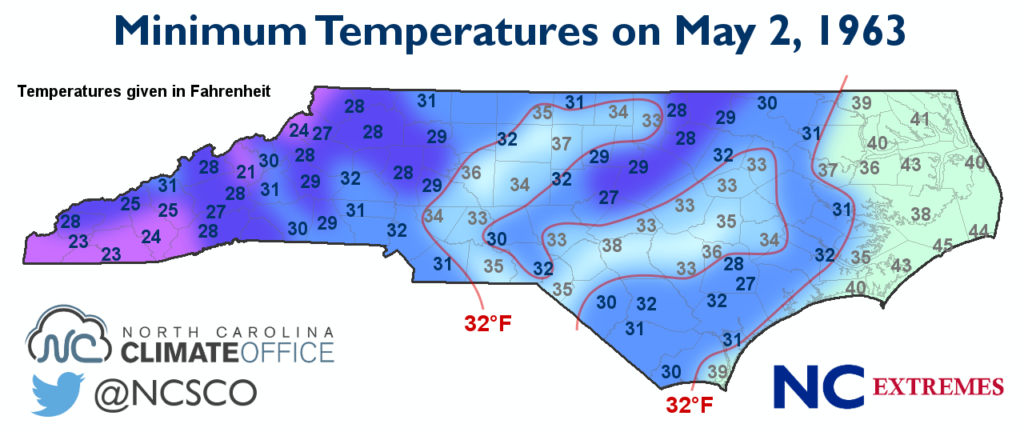 Statewide, most sites set records for their lowest temperature on that particular day as temperatures dropped into the 20s and 30s. For most Piedmont and Coastal Plain stations that got to or below freezing, it was also their latest freeze on record.
This freeze resulted in an estimated $500,000 in crop damage for North Carolina. The US Department of Agriculture reported that many cotton plants were damaged and "replanting of considerable acreage was necessary". Tobacco plants were damaged because of the freeze and the big swings in air temperature and soil moisture. Potato crops also suffered setbacks but began to recover thanks to favorable weather in the rest of May.
Easter 2007 Freeze
What would happen today if a similar freeze happened after several weeks of warm springtime weather? There's no need to wonder, because such an event did happen over Easter weekend in 2007, from April 6 to 10. Although it wasn't as late in the season as in 1963 or even much later than normal, the series of five consecutive nights with sub-freezing temperatures proved much more costly as nearly every crop in nearly every corner of the state suffered damage.
The leadup for this event was similar to the May 1963 freeze. Two and a half weeks of unseasonably warm weather preceded it, so many farmers began planting their crops in late March. In early April, a strong Arctic high set up and cold air began surging south out of northern Canada and across the central US. A leading cold front pushed through North Carolina on April 4, dropping temperatures from the 80s into the 50s.
On April 6, while the heart of the high still sat over Canada, it had far-reaching effects across the US. Temperatures dropped into the teens and 20s across the midwest, and even most of North Carolina fell into the lower 30s.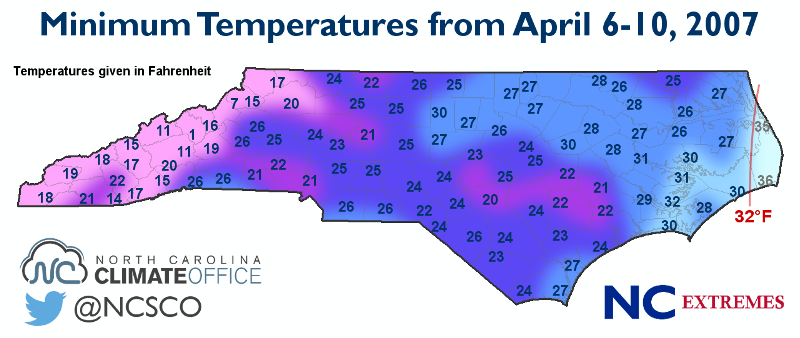 As the high moved farther south, low temperatures continued to drop until they reached their lowest values on April 8: Easter Sunday morning. Widespread lows in the mid to upper 20s were observed with teens reported in the Mountains. Outside of the Outer Banks, the entire state dropped below freezing at some point during this five-day period.
The plants that had taken root in the previous weeks suffered widespread damage, and in many cases, total loss. More than half a million combined acres of corn and wheat were lost, amounting to more than $13 million in losses for each crop.
Fruits and vegetables also suffered tens of millions of dollars in losses. An estimated 70 to 90 percent of strawberries in the mountains were lost, as were 90 to 100 percent of apple and peach crops. More than $40 million in nursery stock was also lost.
The total estimated crop losses across North Carolina amounted to more than $105 million. More than 723,000 acres, or about 1,100 square miles, were affected by the freeze.
The Charlotte area and south-central Coastal Plain had the greatest affected acreage, and those regions plus the fruit-growing counties in the central and southern Mountains suffered the greatest monetary losses.
Across the country, the Easter 2007 freeze did an estimated two billion dollars in damage. It also marked the start of a rough year for agriculture across the Southeast: In the coming months, an emerging drought made recovery difficult for farmers across the region.
---
Sources: