Monthly statistics for July 2013:
Statewide Average Precipitation: 9.30 inches (very wet – 3rd wettest since 1895)
Statewide Average Temperature: 76.83 (in the middle – 60th coolest since 1895)
* Values generated from preliminary numbers
Cool Daytime and Warm Nighttime Temperatures
Don't let that statewide mean temperature fool you. Temperatures in July 2013 probably felt unusually cool to most residents and visitors in North Carolina. Especially compared to last summer, high temperatures in NC were very cool. Most locations, especially in central and western NC, reported average daily maximum temperatures that ranked in the top 10 coolest on record. Both Yadkinville (Yadkin County) and Longwood (Brunswick County) reported the #1 coolest for average July maximum temperatures.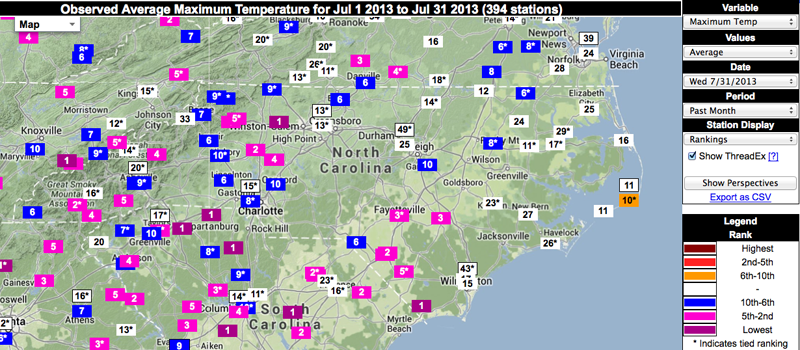 The statewide average temperature combines daily maximum and minimum temperatures, and our nighttime low temperatures have been unusually warm. Many locations across the state reported average daily minimum temperatures ranked in the top 10 warmest on record.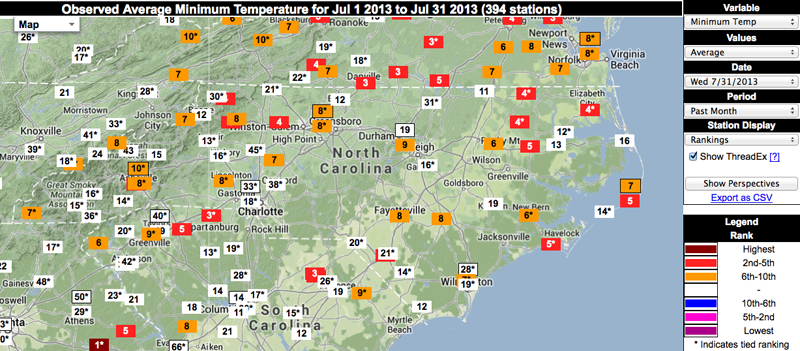 As we mentioned in a blog post a few weeks ago, this is the opposite situation of last summer, when most of the state experienced both very warm daytime highs and cooler nighttime lows. What's the difference this year? All this rain! The excess moisture and frequent cloud cover act as a reflective blanket, blocking sunshine from heating up the air during the day, and preventing heat from escaping overnight.
Most of NC Still Wet
July 2013 continued the wet pattern from earlier, and most of the state received above normal precipitation for the month. Coastal counties, especially along the Outer Banks, were much drier. However, many mountain communities experienced torrential rains. Several western locations reported in excess of 10 inches last month, and many reported their wettest July on record. For a few locations, this follows the wettest June on record. Depending on what August brings to western NC, much of that region will likely report their wettest summer on record.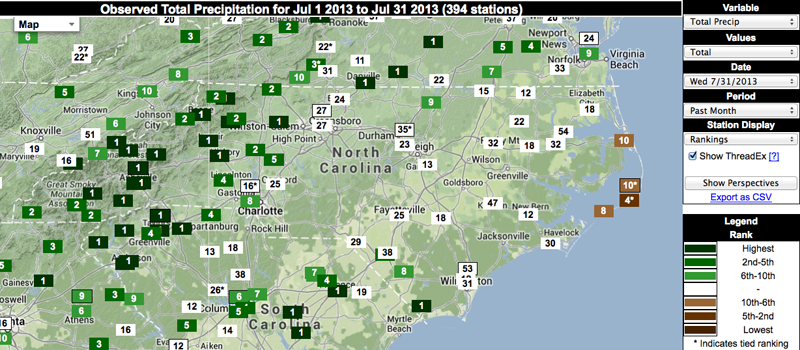 More Flooding for Western NC
Statewide average rainfall for July 2013 ranked as the 3rd wettest since 1895 in NC. Only 2 years had more: 1906 (rank #2) and 1916 (rank #1). July 1916 was famous for 2 back-to-back tropical storms that brought devastating flooding to the mountains of North Carolina, and transformed much of the French Broad river valley, including Asheville. July 1916 brought the 24-hour all time rainfall record for NC, with 22.22 inches reported at Altapass. This amount stood as the nationwide 24-hour record for decades.
While July 2013 didn't break those records, the heavy rain did bring its fair share of damaging floods and landslides. Several counties in the foothills and mountains reported flooding and landslide damages, with more than 1000 homes and businesses affected. However, flood damages were not limited to the mountains, as damages have been reported statewide and disasters have been declared in both the Triangle and Charlotte regions.

Impacts to Agriculture and Water Resources
Continued wet conditions helped ensure water supplies remain high, but the frequent rainfall has caused problems for many crops. Weekly reports from USDA Agriculture Statistics Service suggest that while some areas have been able to dry out a bit, much of North Carolina's cropland has too much moisture. Fields are too wet to manage, and disease incidence and risk is high especially for those crops sensitive to root and foliar fungal diseases. Most growers are forced to spend extra money to cover the costs of increased fungicide applications, and hope for drier conditions for fields to drain and productivity to rebound.