Fire Weather in North Carolina
Since 2011, the State Climate Office has partnered with the North Carolina Forest Service to provide enhanced monitoring and planning capabilities for wildfires and prescribed burning across the state.
The primary product of this partnership has been the Fire Weather Intelligence Portal, a real-time monitoring tool for weather and fire risk conditions. This tool brings together weather observations from the ECONet and other networks, along with National Fire Danger Rating System estimates, forecasts from the National Weather Service, and other datasets designed to facilitate easier tracking of environmental conditions.
To meet the national RAWS standards, our ECONet stations were each equipped with 6-meter wind sensors and now offer a more dense network of fire weather monitoring stations in North Carolina. Our office also adapted our existing ECONet quality control routines for the RAWS network to help the NC Forest Service and other local station managers identify data outages and potential sensor issues.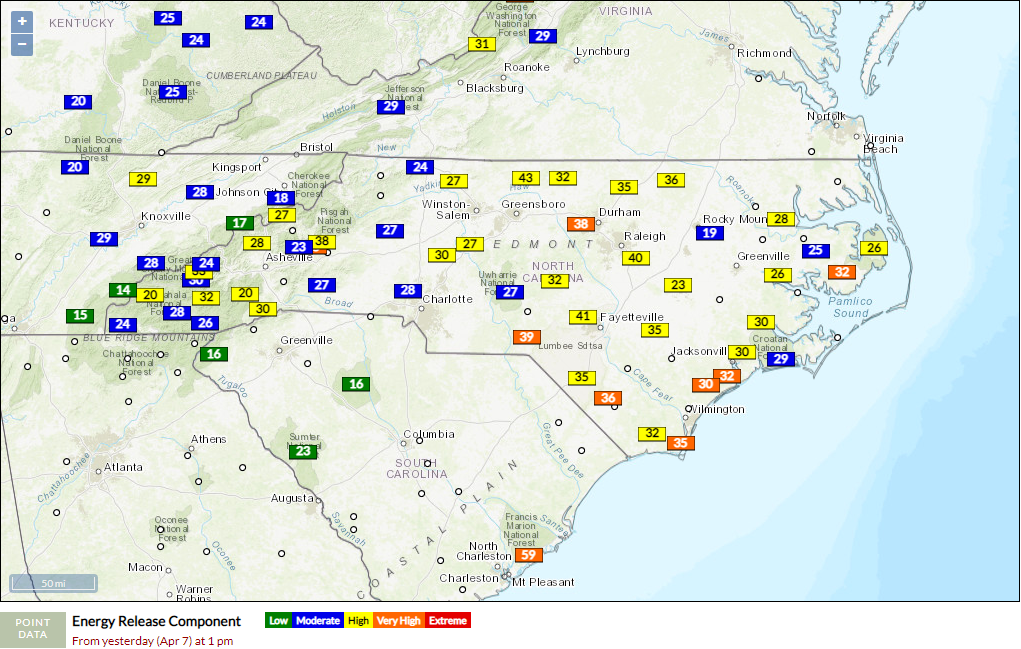 Throughout this ten-year partnership, SCO has developed and piloted a number of new resources that NC Forest Service has evaluated and eventually implemented into their own monitoring toolkit. These include:
Adding experimental and innovative new datasets such as the DENSCA Index and real-time fine fuel moisture content to the Fire Weather Intelligence Portal to assist with local fire danger assessment
Calculating key fire and smoke parameters, including the Atmospheric Dispersion Index and Low Visibility Occurrence Risk Index, at high-resolution gridded spatial scales, originally using the SCO's in-house WRF model and now using the National Weather Service's National Blend of Models
Creating monthly short-range weather outlooks focused on potential impacts to forestry and fire weather
The SCO is also a permanent member of the North Carolina Fire Environment Committee, which is a multi-agency collaborative team charged with assessing and guiding fire monitoring and management within the state.
That includes looking to the future, and an upcoming research project at the SCO will investigate projected changes in fire danger and prescribed burn windows through the end of the century, which can help set long-term planning regimes for forested lands across North Carolina. We are also continuing to provide monitoring information and exploring new ways to share this with a broader audience, including through the development of an upcoming fire-based landing page on the SCO website.