It's that time of the year again: Time for rides and games, time for turkey legs and funnel cake. Yes, the North Carolina State Fair starts today!
The Fair has a rich history dating back to its beginning in 1853. It started as a four-day event but now runs over 11 days with plenty of fun, food, and celebration of North Carolina history, culture, and agriculture.
Of course, weather and climate play a role in each of those, and often affect the Fair itself. So what are typical conditions like during the State Fair, how does weather affect attendance, and what might the weather be like this year?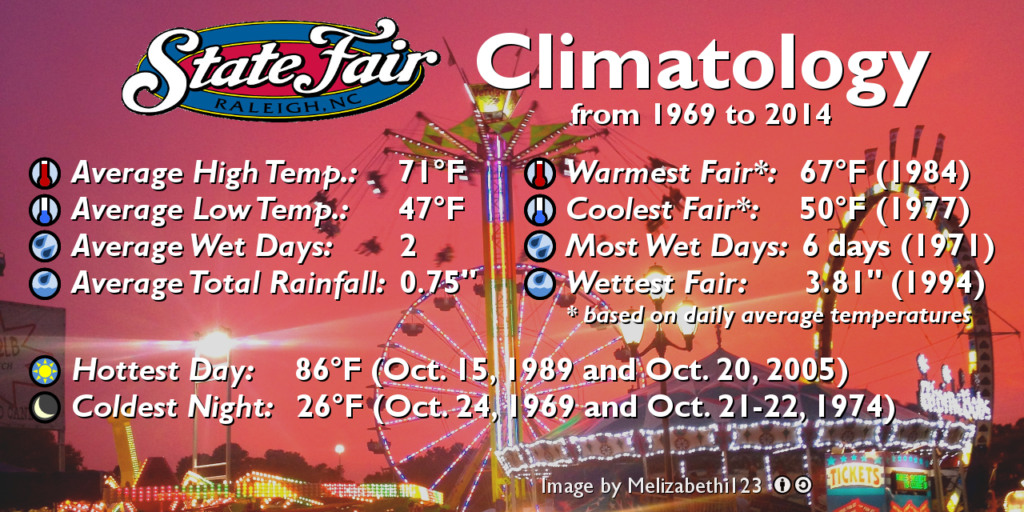 Past Conditions
Weather observations from the nearby Raleigh-Durham Airport for historical Fair dates since 1969, which were obtained from the State Archives, show an interesting mix of conditions in past years as highlighted in the infographic above.
The average high temperature during the Fair is 71°F and the average low is 47°F, giving an average temperature of 59°F. However, not all years have felt so fall-like. In 1984, the average temperature was 67°F and the average high was 78°F. The first Military Appreciation Day in 2006 was also a warm one, as active-duty military members and their families were greeted by an 80°F high temperature and a slight bit of rain (0.08 inches).
On the other end of the scale, the 1977 Fair had an average temperature of just 50°F and an average low of 36°F. One year prior, President Gerald Ford visited on October 23, 1976, when the high reached 63°F. President George H. W. Bush was welcomed by a seasonable high temperature of 70°F when he visited on October 21, 1992.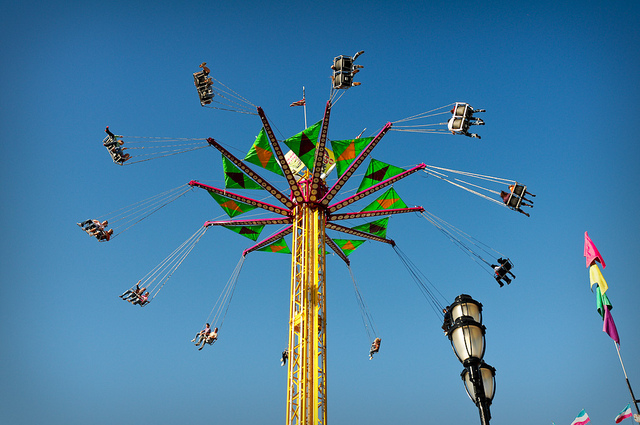 During the Fair, which lasted for ten days until 2007 before growing to 11 days in 2008, we typically see two days with rain. Fortunately, it's rare for the Fair to be a complete washout. Only once has it rained on at least half of the Fair days. That happened in 1971, when 6 out of 9 days were wet.
We've haven't had any direct landfalling tropical storms in North Carolina during the Fair, but we've had a few close calls. In 1990, the remnants of Tropical Storm Marco and Hurricane Klaus combined to bring 0.34 inches of rain to Raleigh on the Fair's opening weekend, but points south and west received much higher rainfall totals. That same year, Hurricane Lili curved away from the coast to spare the state — and the Fair — from a direct hit.
Weather and Attendance
After accounting for long-term trends like population growth, we compared annual Fair attendance since 1986 with average high and low temperatures. As the graph below shows, years with warmer weather tend to have greater attendance.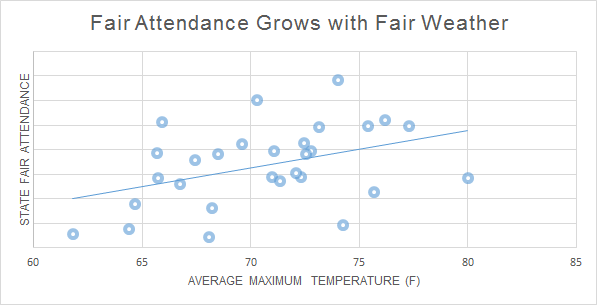 That might not be too surprising, but we also found that cooler nights don't tend to deter fairgoers from attending. An extra layer of clothing or a hot cup of cider may be all that visitors need to handle some crisp fall evenings.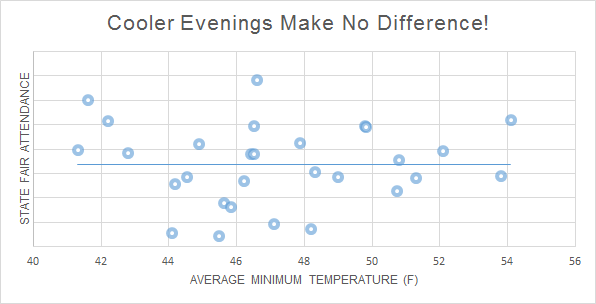 This Year's Forecast
The National Weather Service is predicting a clear, sunny start to the State Fair, with temperatures slightly below normal in the upper 50s and lower 60s. The Climate Prediction Center expects elevated odds of below-normal precipitation for eastern North Carolina through the end of next week.
Lows could even dip down into the 30s early next week, possibly bringing our first frost of the season. The first frost and freeze also came during the week of the Fair in 2006, giving this fall tradition a taste of winter.