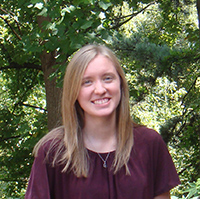 Myleigh Neill
Instrumentation Technician
139 Research III Building, Centennial Campus
Box 7236, North Carolina State University
Raleigh, NC 27695-7236
Telephone: 919-515-4052
Email: mneill@ncsu.edu
Growing up in Aurora, MO, Myleigh's interest in weather was sparked by the ever-changing weather patterns over the Missouri Ozarks. She pursued her interests at the University of Oklahoma and spent time studying abroad at Monash University in Melbourne, Australia. She received her B.S. in Meteorology with a minor in Weather and Climate in 2017. Myleigh joined the State Climate Office in 2018 as an Instrumentation Technician, where her main responsibility is performing maintenance on ECONet stations. She recently led a research project using sand temperature to estimate sea turtle hatchling gender on Bald Head Island, and she is a co-organizer of the 2021 Raleigh/Durham Urban Heat Island Mapping Campaign. Additionally, Myleigh is a licensed drone pilot, and in her spare time, she enjoys nature photography and traveling.