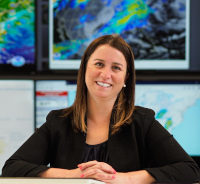 Dr. Kathie Dello
Director / State Climatologist
149 Research III Building, Centennial Campus
Box 7236, North Carolina State University
Raleigh, NC 27695-7236
Telephone: 919-513-2101
Email: kddello@ncsu.edu
Kathie Dello is the state climatologist of North Carolina and the director of the North Carolina State Climate Office. She is the 5th permanent director and first woman to hold this position at the NCSCO in 43 years. Kathie comes to us from Oregon State University, where she was the associate director of the Oregon Climate Change Research Institute and the deputy director of the Oregon Climate Service for almost 10 years. At OSU, Kathie led and participated in numerous state climate assessments, outreach, engagement, and research. A skilled climate communicator, Kathie was one of Oregon State University's most quoted experts in the media. She has a Ph.D. in Environmental Sciences from Oregon State University, a Master's in Geography and a Bachelor's in Atmospheric Science from the State University of New York at Albany. Kathie is originally from western New York, and likes to hike and bike in her spare time.