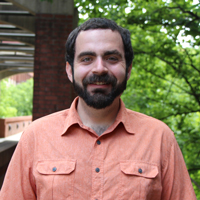 John McGuire
Applied Meteorologist and Environmental Data Manager
147 Research III Building, Centennial Campus
Box 7236, North Carolina State University
Raleigh, NC 27695-7236
Telephone: 919-515-0412
Email: jamcguir@ncsu.edu
John joined the State Climate Office (SCO) in 2009 as an Applied Meteorologist and Web Developer. Some of his early projects included developing and optimizing weather-based products for the SCO and the NOAA Southeast Regional Climate Center (SERCC). In 2018, John added the role of the Environmental Data Manager, where he is currently responsible for overseeing all meteorological databases, environmental datasets and services managed by the SCO. Some of his more recent projects include web development work for SERCC's Climate Perspectives, data quality control monitoring interfaces, the SCO Weather Map, gridded data visualization and data management. Additionally, John is tasked with the administration of the SCO websites, databases and the development of CLOUDS API, a new application programming interface for accessing our office's weather and climate data. He also is working on environmental data analysis and web development focusing on mobile-friendly and accessible design and interaction.
John has two degrees from NC State: a B.S. in Meteorology with a minor in mathematics (2008) and a M.S. in Atmospheric Sciences (2013). His master's research focused on WRF weather model data assimilation and freeze risk associated with cold-air drainage in the Yadkin Valley of North Carolina. Originally from Chicago, John grew up in Cary where he currently lives with his wife and children.
Education
BS in Meteorology, Minor in Mathematics, 2008 – NC State University
MS in Atmospheric Sciences, 2013 – NC State University