April 13th Tornado Outbreak Ranks Among NC's Most Abundant
Posted on April 21, 2020 by Corey Davis and Sean Heuser
Last Monday, April 13, got off to a stormy start as a line of severe thunderstorms roared across North Carolina. In the process, they spawned 16 confirmed tornadoes, which is the fifth-most ever recorded on a single day in our state.
This outbreak -- including 131 tornadoes over two days and ten states -- had its origins over Texas on Easter Sunday morning. Along a boundary between cool, dry air from the Rockies and warm, moist air from the Gulf of Mexico, conditions were ideal for severe weather.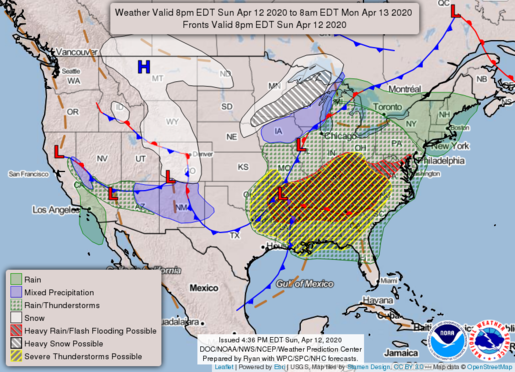 A cold front moves across the Deep South on Sunday, April 12, as severe thunderstorm potential increases throughout the southeast. (Map from the NWS Weather Prediction Center)
From there, the cold front moved eastward, spawning tornadoes across the Deep South on Sunday afternoon and evening. All the while, conditions were becoming more favorable for severe weather in North Carolina.
As the muggy air mass from the Gulf moved up the east coast, dew points climbed into the 60s by midnight on Monday while the leading edge of the front approached. That provided plenty of fuel in the form of moisture to keep the line of storms alive and potent.
Strong southerly winds just a couple of miles off the ground also meant wind shear and helicity -- or the spiraling of air horizontally -- were increasing, rivaling the values observed during our record-setting tornado outbreak on April 16, 2011.
All it took to initiate tornadoes was strong thunderstorm updrafts to tilt that spiraling air vertically, and that ingredient arrived in the Piedmont by daybreak as the main squall line moved in.
The first tornadoes in the state touched down between 6:30 and 7 am on Monday. According to storm surveys conducted by the National Weather Service, a pair of EF1s tracked across a 5-mile path in Alamance County and a 9-mile path in Anson County.
An EF2 -- the strongest of the day in North Carolina -- was also briefly on the ground for 0.4 miles near Morven in Anson County, damaging two chicken houses and a mobile home.
Later in the morning, the line arrived at the coast, which saw the majority of the day's tornadoes. Those included one EF0 in Columbus County, three EF1s and one EF0 in Pender County, an EF1 in Onslow County, and two EF0s in Brunswick County.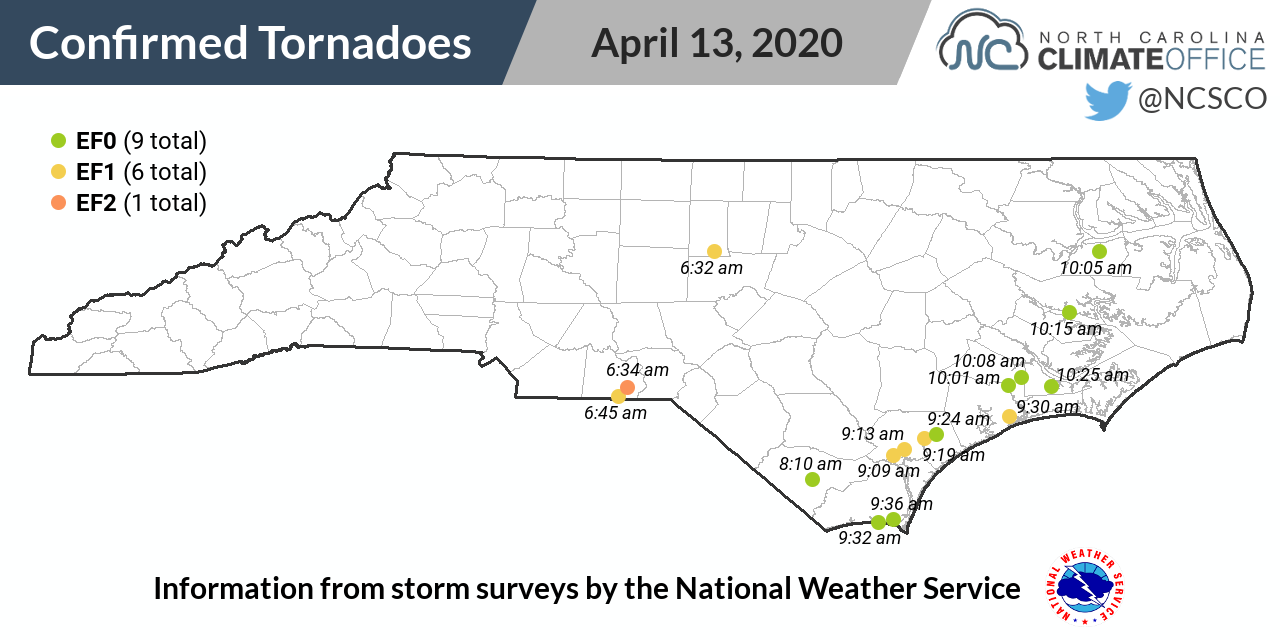 Confirmed tornadoes in North Carolina on April 13, 2020.
Five more EF0 tornadoes touched down between 10 and 10:30 am, with two confirmed in Jones County and one each in Craven, Beaufort, and Washington counties.
The majority of the tornado damage in the state was to trees, roofs, and farms. A waterspout that came on shore near Bayview also damaged a pier.
But tornadoes weren't the only hazard of the day. The cold front was accompanied by strong winds in all parts of the state. Our ECONet stations on Frying Pan Mountain and Bearwallow Mountain recorded hurricane-force wind gusts of 83 mph and 78 mph, respectively.
In the Piedmont, our station in Hamlet in Richmond County measured a gust of 65 mph, and it gusted up to 63 mph at our site at the Lake Wheeler Road Field Lab in Raleigh. (The record gust at that site of 72 mph was set during April 16, 2011, tornado outbreak.)

Maximum wind gusts at our ECONet stations on April 13, 2020
In the Coastal Plain, our tower at the Cherry Research Station in Goldsboro recorded sustained winds of 45 mph and gusts of 53 mph. The National Weather Service in Morehead City reported gusts of 56 mph at Cape Hatteras, with even higher gusts along the Outer Banks over the sounds and ocean.
Aided by the wet ground from rain brought by the storms, the high winds knocked down trees and power lines. The NC Department of Public Safety reported up to 275,000 power outages across the state during the event.
Sadly, a tree falling on a home in Davidson County -- which had reported gusts of up to 49 mph in Lexington -- claimed the life of a 61-year old woman.
With 16 confirmed tornadoes in the state as of April 20, the April 13, 2020, event ranks as the fifth-largest single-day outbreak in North Carolina, per the NWS Storm Prediction Center's records dating back to 1950.
The record is still held by the 30 tornadoes during the April 16, 2011, outbreak. That event had a similar overall setup to last week's, but occurred during the afternoon instead of the morning, so daytime heating had a chance to increase environmental instability even more.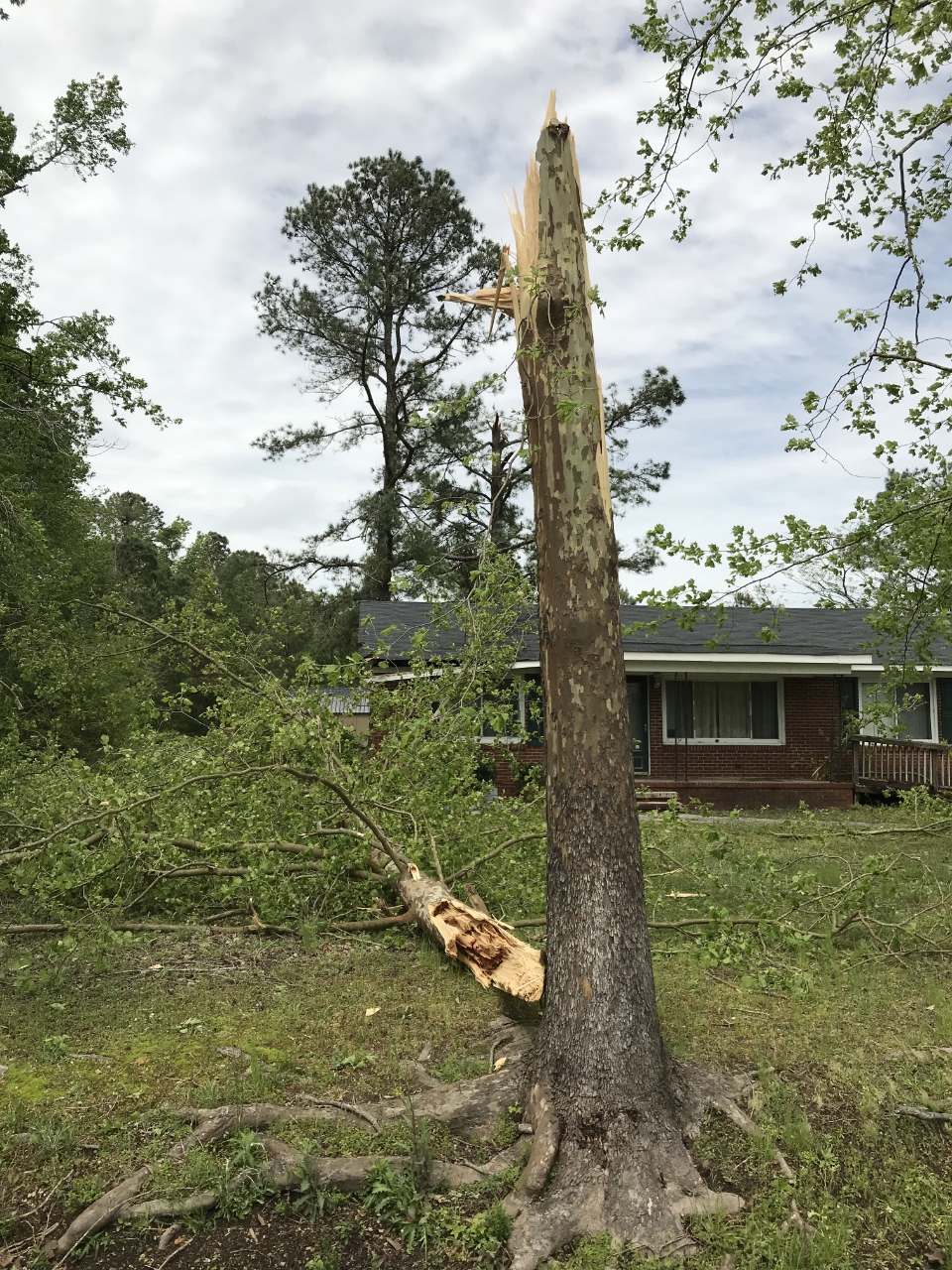 A snapped poplar tree along the path of a confirmed EF1 tornado near St. Helena in Pender County on April 13, 2020. (Photo by NWS Wilmington)
On May 7, 1998, a total of 20 tornadoes touched down, mainly in the western Piedmont and Foothills. The strongest that day was an F4 in Caldwell County -- the most recent of the 13 tornadoes at that intensity within the state. North Carolina has never recorded an F5 or an EF5 tornado. (The Enhanced Fujita, or EF, scale was implemented on February 1, 2007.)
An outbreak on the afternoon of April 15, 1996, included 18 tornadoes in the eastern Piedmont and central Coastal Plain. Among those, there were 6 rated at F0 strength, 6 at F1, and 6 at F2.
In fourth on the list of our state's most active tornado outbreaks is September 15, 1999 -- a day many remember for a very different sort of weather event. Hurricane Floyd's outer rain bands enveloped eastern North Carolina, dropping up to two feet of rain over a three-day period. But Floyd also spawned 17 tornadoes in coastal counties.
In terms of our seasonal climatology, this April's event falls right in the heart of our typical peak time of year for severe storms. Of our state's more than 1,300 tornadoes between 1950 and 2018, 203 of them -- or about 15% -- have been in the month of April. Only May (232 tornadoes) has more in a single month.
This event did come on the heels of an unusually quiet March. There were no confirmed tornadoes in the state for the second March in a row, and for the fifth time in the past 14 years.
While last month may have gone out like a lamb, all it took was one event for our April weather to roar to life. An early-morning tornado outbreak and a day of gusty winds were certainly a wake-up call for anyone who slept on this severe weather season.
Keywords: Weather Events, Tornadoes
Next Post »
Showers Soak the State During a Stormy April