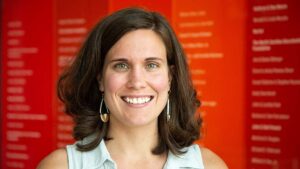 Rebecca Ward
Assistant State Climatologist
151 Research III Building, Centennial Campus
Box 7236, North Carolina State University
Raleigh, NC 27695-7236
Telephone: 919-513-2444
Email: rebecca_ward@ncsu.edu
Rebecca's work at the NC State Climate Office centers around delivering climate extension and education to a variety of audiences and working with various sectors in the state to provide climate data, information, and expertise to support decision making. Recently, she has worked closely with NC State Extension and N.C. Cooperative Extension to deliver climate-focused workshops, and to develop decision support tools to inform planting and management decisions for agricultural crops based on climate and weather data. Previously, she was an active member of the NC Drought Management Advisory Council, helping to monitor drought conditions across the state, and also worked on several research projects to explore and analyze new drought indicators and indices and systematically develop and evaluate new informational resources to communicate current drought information.
Education
BS Meteorology 2011 – NC State University
BS Applied Mathematics 2011 – NC State University
MS Atmospheric Sciences 2014 – NC State University
PhD Science Education (In Progress) – NC State University