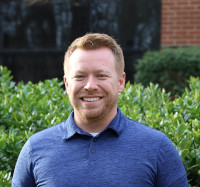 Cam Baillie
Instrumentation Technician
135 Research III Building, Centennial Campus
Box 7236, North Carolina State University
Raleigh, NC 27695-7236
Telephone: 919-513-0927
Email: cmbailli@ncsu.edu
Cam Baillie was born in Muscatine, Iowa where his experiences with intense storms and tornados sparked an interest in extreme weather at a young age. Over time, he discovered his passion for sharing the beauty of the natural world with students so, in 2014, he received his B.S. in Education from Indiana University of Pennsylvania where he studied Earth and Space Sciences. Until December 2019, Cam taught high school Earth Science, designed teacher professional development, and wrote science curriculum in northern Virginia. Additionally, he worked with the National Park Service and the University of Colorado Denver to develop and implement a water quality research project for students to gain real-world field experience. Cam joined the State Climate Office in February 2020 as an Instrumentation Technician. In the future, he plans to take part in weather and climate research and continue to emphasize student & community outreach.