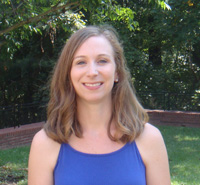 Ashley Hiatt
Applied Meteorologist
145 Research III Building, Centennial Campus
Box 7236, North Carolina State University
Raleigh, NC 27695-7236
Telephone: 919-515-1440
Email: ashley_hiatt@ncsu.edu
Ashley Hiatt was born in Burlington, NC. In 2005, she received a B.S. in Meteorology at NCSU, with a minor in statistics. Ashley became an employee of the SCO after graduation, and was initially involved in creating statistical evaluation tools of the SCO's operational model. She has also researched climate change in NC for the Global Climate Change Commission, and worked to expand the CRONOS database to include data from various water sites (streamflow, groundwater, reservoir, etc.) across the Southeast. Ashley's main duties are to maintain the SCO website, develop decision-based support tools for climate-sensitive communities, and assist in data retrieval services. In the future, Ashley hopes to continue work with state agencies and institutions in developing science applications.